About Us
Safety Power history
Safety Power provides emissions control in accordance with highest standards, including Tier 4 Final emissions protocols and Euro VI.
The inspiration behind the establishment of Safety Power was the fallout from one of the largest electrical blackouts that North America had experienced in more than four decades. At approximately 4:00 p.m. on Thursday, August 14, 2003 a widespread power outage crippled huge areas of Ontario, Canada and the northeastern United States. Industry, government and transportation ground to a halt. In some jurisdictions the outage lasted for several days. The weather was extremely hot during the outage. Few commercial facilities and fewer hospitals had air conditioning systems powered by their emergency standby generators. Many of the diesel and natural gas generators installed to provide a backup source of power failed to operate due to a host of maintenance related reasons. Emergency agencies in New York City and Toronto reported more than 900 elevator rescues in buildings where the backup generators failed to start and power the elevators to safety.

Darkened Toronto Skyline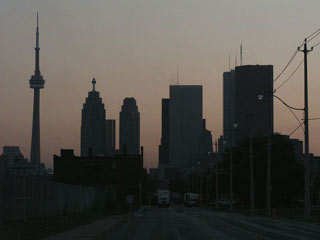 Power started returning to pockets of Southern Ontario and parts of New York State within 24 hours, but the enormous blackout that struck the region raised many issues about the integrity of the electrical infrastructure including the emergency standby systems meant to mitigate the impact of grid power outages.
Many of the standby engine based generators did not operate because they were not adequetly tested. Facility owners were reluctant to test these units because of complaints about air emissions. Following incorporation in 2005, Safety Power quickly positioned itself as a global innovator in the development of technologies that have resulted in a line of state-of-the-art emission control products that meet or exceed emissions limit requirements from the strictest regulatory authorities in North America - US EPA Tier IV Final emissions control, ONT MOE EBR 010-2463, CARB etc.
From the beginning, Safety Power's vision was to develop a clean technology solution that would allow owners of large scale diesel and natural gas engines, which are typically being used in standby power or distributed power applications, to operate the engines more frequently under load conditions without facing operating restrictions imposed on them by the regulatory authority. Regular testing and operation of these engines results in improved reliability and fewer issues than those experienced during the 2003 blackout.
Within its first year of operation, Safety Power installed a full-scale prototype for a megawatt class diesel generator set to demonstrate the emissions control technology and generator dispatching capabilities to key stakeholders including Ministry of Environment, major engine manufacturers, Ontario Power Authority, Independent Electricity System Operators, local municipal government and utilities, and commercial property owners represented by BOMA.
Following a successful launch of the prototype, Safety Power began engineering emissions control solutions to reduce the harmful exhaust emissions that previously prevented the use of standby diesel and natural gas engines for non-emergency use. Owners of these assets now have a proven solution that gives them the option to consider utilizing their diesel or natural gas engines for revenue generating programs such as Demand Response or to simply manage their own electrical peak demand or to implement risk mitigation strategies such as storm avoidance operation.
Working closely with world class colleges and universities and by employing a core group of talented, highly skilled engineers, Safety Power has developed a highly effective product architecture utilizing computational fluid dynamics and model-based control that has resulted in a state-of-the-art emissions control solution for many applications and in accordance with highest standards, including Tier 4f emissions protocols. Safety Power's emissions control systems are achieving performance levels not previously realized in the industry within a compact, low cost, highly configurable platform. This winning combination of attributes along with Safety Power's strong commitment to continued product innovation, research & development and talent recruitment ensures that Safety Power will continue to be a Global Innovator in its served market.